Press play for a short demo
LOUNGE ROOM FAVORITE HITS/LOUNGE ROOM FAVORITE HITS/LOUNGE ROOM FAVORITE HITS/LOUNGE ROOM FAVORITE HITS/
LOUNGE ROOM FAVORITE HITS/LOUNGE ROOM FAVORITE HITS/LOUNGE ROOM FAVORITE HITS/LOUNGE ROOM FAVORITE HITS/
Welcome to Lounge
Room Favorite Hits featuring the Champagne sound of yesterday and of today
Feel free to browse around and check back often to see our upcoming gigs. I have a special mix of Music for your listening and dancing pleasure. Please watch the short video Montage performed by the quartet. I have a music ensemble to fit every budget Trio-Quartet- Sextet-Octet configurations with various instrumentation's are available to you as well. I feature lounge room favorite hits and romantic standards. Very eloquent Music for any occasion . And We feature iconic Tribute Bands (Stan Getz Featuring The West Coast Sound) (Benny Goodman Tribute Quartet) and if you enjoyed the Gold Years of the West Coast Jazz Sound ``Take Five`` ( Mulligan-Brubeck-Baker) and Bossa Nova Craze ( The girl from Ipanema-Wave-So Dance the Samba and many others) ``Stan Getz`` I have a GREAT book for you as well. I am also a very fine Clarinetist and feature a GREAT Benny Goodman book ( Savoy-Jersey Bounce-Moonglow and many more.) Also a beautiful arrangement of ``Begin the Beguine`` ( Artie Shaw) I also have many specialty books to address any style theme type Music ( Christmas-French-Early Swing & Dixieland-Gypsy) for your special occasion as well.


Get a FREE case of party favors for your event! (optional)
Make us an offer we can't refuse
Please don't hesitate to make an offer for your event. All reasonable offers will be considered. If you have any questions, concerns or request feel free to let me know. Thank You for visiting us.
Cheers, Jim
Events/Events/Events/Events/Events
Events/Events/Events/Events/Events
November

2023

Mon
Tue
Wed
Thu
Fri
Sat
Sun

2

SOLO SAX-CLARINET NIGHT PARTY

•

3

SOLO SAX-CLARINET NIGHT PARTY

•

4

SOLO SAX-CLARINET NIGHT PARTY

SOLO SAX-CLARINET NIGHT PARTY

• •

9

SOLO SAX-CLARINET NIGHT PARTY

•

10

SOLO SAX-CLARINET NIGHT PARTY

•

30

SOLO SAX-CLARINET NIGHT PARTY

•
About/About/About/About/About
About/About/About/About/About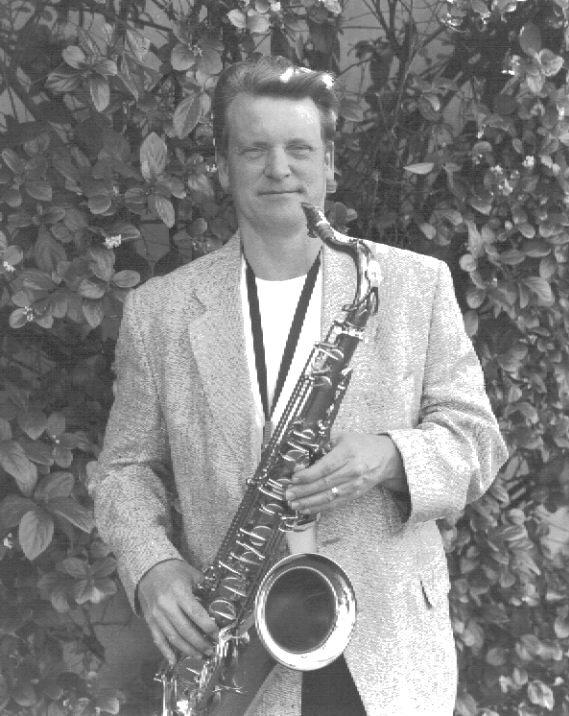 James Gentry
James Gentry grew up in Indianapolis, Indiana where he attended Harry E. Wood High School. While in High School, James studied classical clarinet with Achille Rossi of the Indianapolis Symphony Orchestral. His interest at this early stage of his career was in classical music.James went on to play principal clarinet in many of the All-City and All-State Orchestrals in and around the state of Indiana.
After his graduation from high school, his interest in Jazz began to blossom. James attended Berklee College of Music in Boston, Massachusetts where he studied and refined his playing skills with the likes of Joe Viola and John Laporta. While there he also became interested in Jazz Composition and Arranging.  He studied with some noteworthy teachers such as Herb Promeroy and James Williams.
After Graduation from Berklee, James freelanced while leading his own groups in and around the Boston area before moving to Southern California where he continues to freelance and lead his own Quintet.
James's current Quintet plays an outstanding repertoire of Jazz Standards, Blues and many of his original compositions. James' Quintet is a hard swinging band very reminiscent of, should we dare say, the many fine Art Blakey's bands. But, we will let you judge that for yourself. So, if you are looking for the best in Contemporary Jazz, a band with that edge, and plenty of good Home Cooking, then the James Gentry Quintet is tailor-made for you!